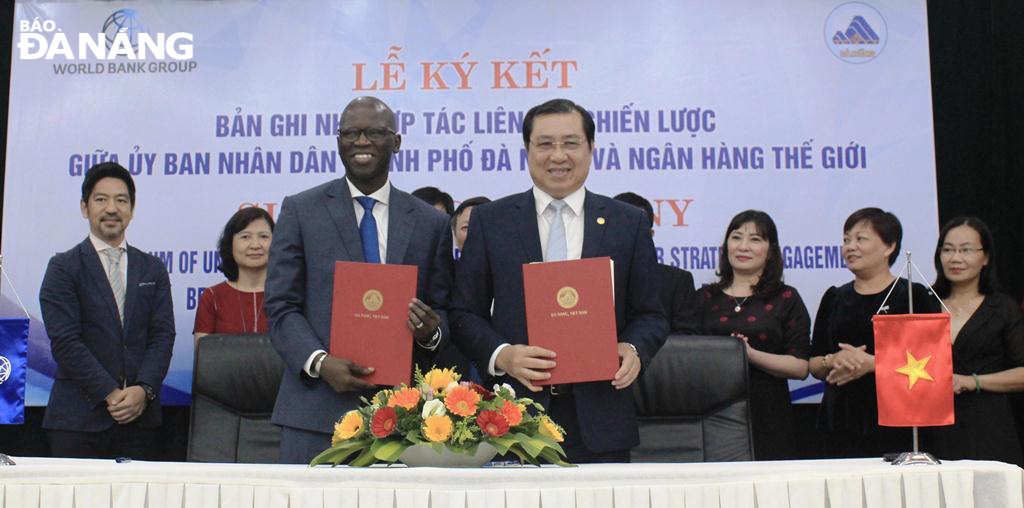 At the signing ceremony
Under the MoU, WB will help Da Nang develop the city's integrated socio-economic development planning strategies, managing public finance, promoting urban development in a sustainable manner with a focus on transport, energy, clean water, and environmental sanitation. Special attention will be paid to protecting the environment, and building a competitive workforce.
In his remarks at the signing ceremony, municipal People's Committee Chairman Huynh Duc Tho highly lauded the fruitful cooperation and active support that the WB has given to Da Nang over the past 20 years.
He added the development of the Da Nang-WB cooperative relationship into a strategic partner would be a good opportunity for the coastal city to fully tap the knowledge, finance and other resources of WB to promote its development in the time ahead.
In reply, WB Director in Viet Nam Ousmane Dione noted the signed deal is another evidence affirming the long-term partnership based on mutual trust and understanding between the two sides.
He said his bank has started engaging in a total of 34 projects in Da Nang so far, and the bank has been one of the city's important partners benefiting from these projects.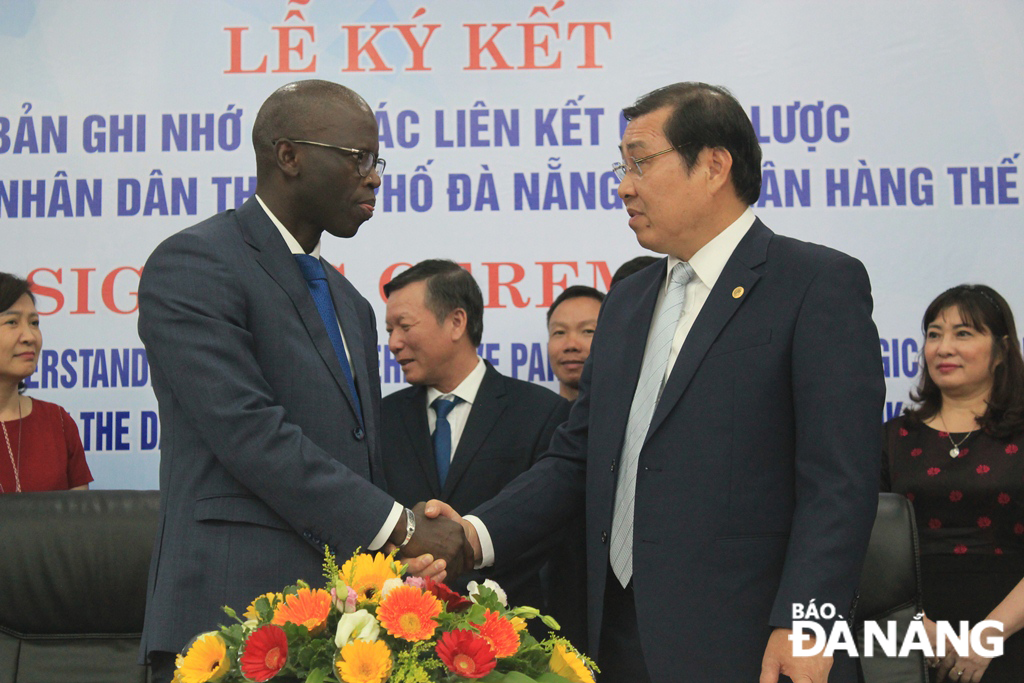 WB Director Ousmane Dione (left) expressing his desire to turn Da Nang into a typical model that can be expanded into other localities nationwide.
The WB Director confirmed funding packages, totalling 500 million USD, have been poured into infrastructure and social security projects in Da Nang, which would be continued in the future.
"In the coming time, WB will continue giving active support to Da Nang, including finance and knowledge, in order to help the city connect closer to the world" he affirmed.
Mr Ousmane Dione added he was very impressed with the city's progress, with its GRDP showing a 7-fold rise during the 2003-2019 period. Da Nang can be dubbed San Francisco of Viet Nam. The city's development would have positive impacts on the whole country.
He expressed his desire to turn Da Nang into a typical model that can be expanded into other localities nationwide, which would create extra motivation for the central region and highlands.
Over the past more than 2 decades, the bilateral cooperation between Da Nang and WB has focused on critical infrastructure building (1999 - 2008), multi-sectoral urban development (2008 - 2013), and synchronous urban development (from 2013 until now) and towards building Da Nang into a green and livable city.
Read more at https://baodanang.vn/english